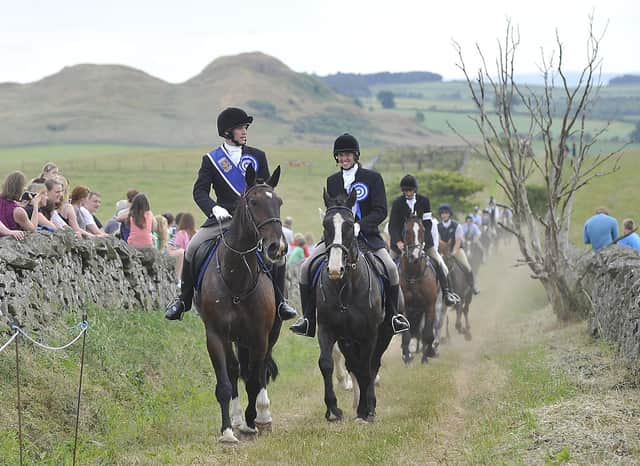 Kelso laddie Calum Thomson leading 2013's cavalcade to Hume Castle.
In pictures: 2013's Kelso Civic Week all a highlight for laddie Calum
Kelso would be preparing for its annual civic week at the moment were it not for the coronavirus pandemic and ensuing lockdown wiping out 2020's festival calendar for the Borders.
Friday, 10th July 2020, 10:01 am
Updated
Friday, 10th July 2020, 10:10 am
All being well, proceedings would be about to get under way on Sunday, continuing with colour-bussing on Wednesday and culminating a week tomorrow with a rideout to Yetholm and the event's main day.
The event's organisers have lined up some online activities, such as a children's pet show and garden fancy-dress contest, instead so the occasion doesn't go completely unmarked, though, and we've dug out some archive photos from Kelso Civic Week seven years ago by way of consolation too.
Calum Thomson was 2013's Kelso laddie, and he was assisted by right and left-hand men Callum Vickers and Phil Hume.
Calum, 21 at the time and employed as a joiner for Roxburgh Estates, said afterwards: "The week was brilliant, absolutely brilliant.
"The weather was perfect, and the bussing went very well. The whole week was a highlight. I wouldn't change it for the world, and I want to be Kelso laddie next year."
He was following in his father's footsteps, his dad David having been 1984's laddie.